Children's Movie - Ron's Gone Wrong - Registration Required!
Friday, March 18
3:15—5:30 PM
Library Community Room
Needham Free Public Library
1139 Highland Avenue, Needham, MA, 02494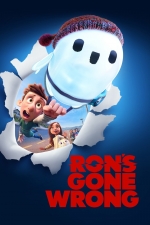 Come watch Ron's Gone Wrong the animated PG 2021 with us in the Community Room.
Registration required.
NOTE: This program is limited to 40 people total so caregivers please count yourselves as an attendee when registering. If more than 1 adult will be in the room, please reserve an extra space. If infants or additional children will be in the room, reserve a space for them. Everybody in the room counts for the room limit.
Capacity: 34 of 40 spaces available.
Note: Registering more attendees than spaces available will automatically place your attendees on this event's wait list.
Registration for this event has now closed.